Hi well before heading for what all this is about. Let me ask you few questions.
Have you ever thought that you should find some alternative, so that you can control you 2 machines on your desk with a single Mouse and Keyboard?
You wanna share files between those two rigs and Copy paste?
I had a question too – How can i control all my 3 machines with a single mouse and keyboard on the desk?
Well when i had 3 machines on my desk. I really had this thought.
So what i GOOGLED and BINGED for the solutions. Then i found this
MOUSE WITH OUT BORDERS – A Microsoft Garage Project- By Truong
A project developed in the Garage and released in September 2011.
The software can allow a single mouse and keyboard to control up to four computers and as I discovered is ridiculously easy to install and use. And I still have the ability to share the clipboard between my computers and copy files from one to the other which is something I do all the time while I blog and develop apps.
Read this – Words By Steve Clayton on TechNet Blog
"Today it gives me great pleasure to announce a free download resulting from a Garage project. To recap quickly, The Garage is both a physical space in Building 4 at our Redmond HQ, and a companywide program that encourages grass roots invention, tinkering, ideas and incubation of projects. In The Garage, employees get together after hours to build whatever they dream up and the results are often impressive. 99.9% of the Garage projects either ship as part of a Microsoft project or remain internal, but every once in a while there's a project that doesn't fit into any existing Microsoft product which will get a lot of request from employees who want to be able to share it with their friends and families. In exceptions like this, the Garage community will rally together to and publish it as a standalone public download."
That's what's happening today with Mouse without Borders.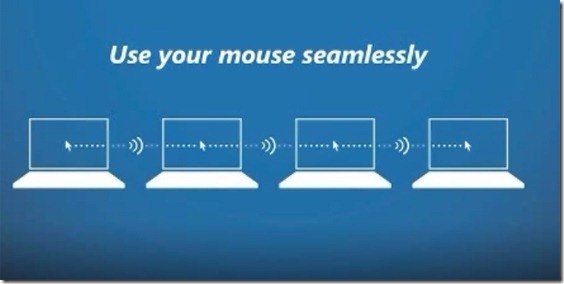 DOWLOAD Now [1.1 Mb]
Getting Started
You can download your free copy of Mouse Without Borders by visiting the Microsoft Downloads Page.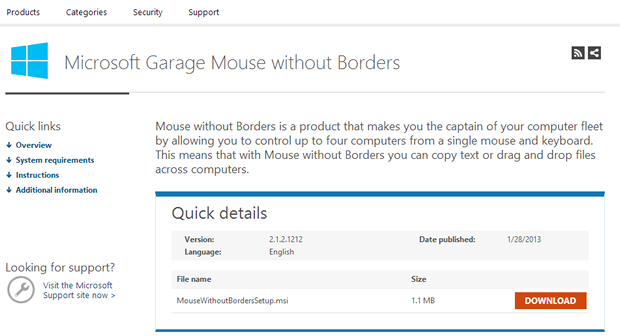 Now to use a single mouse and keyboard across multiple computers, you need to install this software on all of those machines. The installation is very much as you would expect and you can get up and running very quickly – the only thing to keep in mind is that you need to click through a UAC confirmation.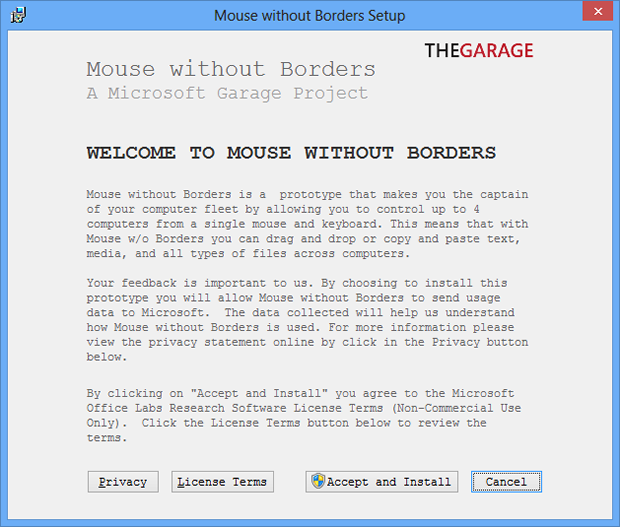 Follow the instructions on the screen to install will complete it in about a minute.
Click Finish and the program will automatically start. For now we'll work with the computer whose mouse and keyboard you want to share with other machines.
Click Yes to indicate you've installed the software on at least one more computer. You'll be prompted to enter a security code and computer name, and for this you will need to turn to your second computer.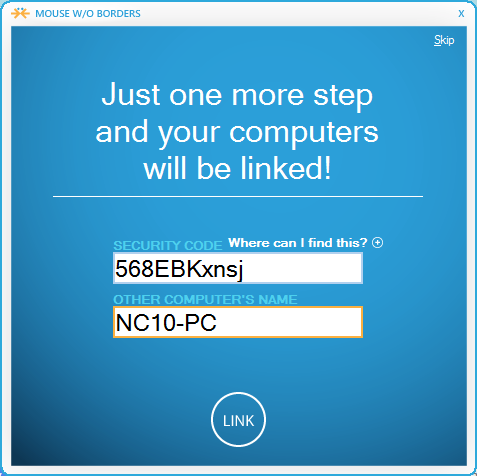 Now time to install it on our second machine. After installing. The wizard to setup will appear. On this machine, click No and cancel the wizard before right clicking the system tray icon and selecting Settings. Make sure that the 'Show text' box is ticked and make a note of the Security Key and computer name so that you can enter it on your first computer.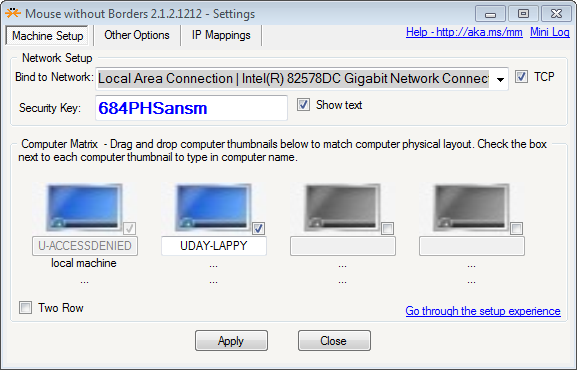 Mouse Sharing in Action
Now once done with the setup, close the wizard and you can then configure the physical arrangement of your screens. If you have ever configured multiple monitors, you'll find that this is a very similar process.
The Settings dialog displays an icon for each of the computers you have selected to connect, and you can drag and drop these icons into position so they are positioned in the same way as your computer screens in relation to each other.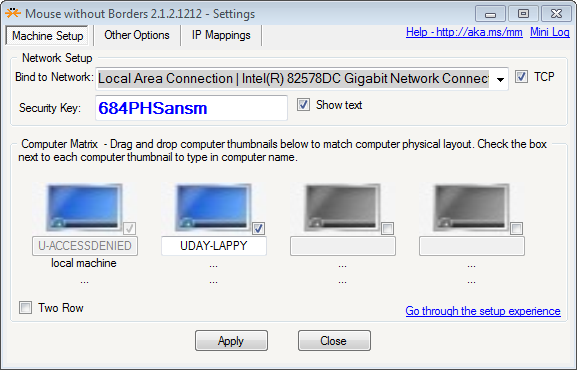 Click Apply and you can then move the mouse off the edge of one monitor and it will appear on the other screen. But there are also a few more settings to investigate.
You are now ready to use your mouse without your screen borders across all computers.
NOTE :- To use this you need all the machines to be in a single network
Now time for some extra tweaks move to the Other Options tab of the Settings dialog and tick the Wrap Mouse box. This enables the feature which means that you can just keep moving the mouse cursor in the same direction and it will keep disappearing off the edge of one monitor and re-appearing on the other – no need to move back the way you came if you don't want to.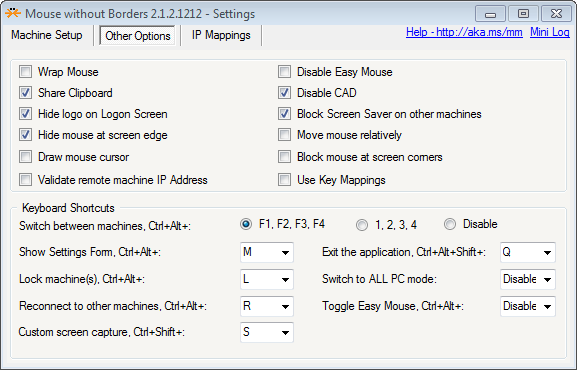 If you're using Windows 8, the corners of the screen are used to call up the Start screen, Charms bar and other features, and you may find that you accidentally move between screens when trying to access these options.
To avoid this you can tick the box labelled 'Block mouse at screen corners' to prevent screen switching in these areas. Alternatively, tick Disable Easy Mouse as this requires that the Ctrl key is held down while the cursor is at the edge of the screen in order to switch.
Easy Navigation
Ordinarily you will move from one screen to another in the way described – by simply moving off the edge of one screen onto the other. But it is also possible to jump straight from one monitor to another without the need to travel with the cursor; this is great if you have a large monitor.

At the bottom of the Settings dialog you can configure various keyboard shortcuts, including the ones you can use to jump from one display to another.
Any computers you have connected to each other now share a clipboard. This means that you can copy text on one machine, switch focus to another and paste into a document – easy!
So far we have only use the system tray icon to access the Setting screen, but it serves another purpose as well. Right click this icon and you can capture screenshots from any of the computers you have linked together.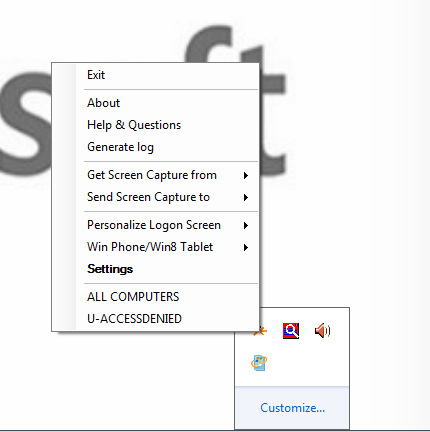 This means that there is no need to spend time moving the cursor to the monitor you're interested in, and no need to manually copy and paste images between computers. Everything can be taken care of by selecting the 'Great Screen Capture from' option and then choosing the computer you're interested in.
The screen capture option also works in reverse. When you are using a particular computer, you can send a screenshot to another connected machine – just select the 'Send Screen Capture to' option.
Summering Up
Mouse Without Borders is an immensely useful tool. It might come as something of a surprise that it is a tool associated with Microsoft, and even more of a surprise that it has been kept a secret.

The video above both explains and shows Mouse Without Borders far better than I can using words.
Try it out for yourself and please share your thoughts in the comments below.