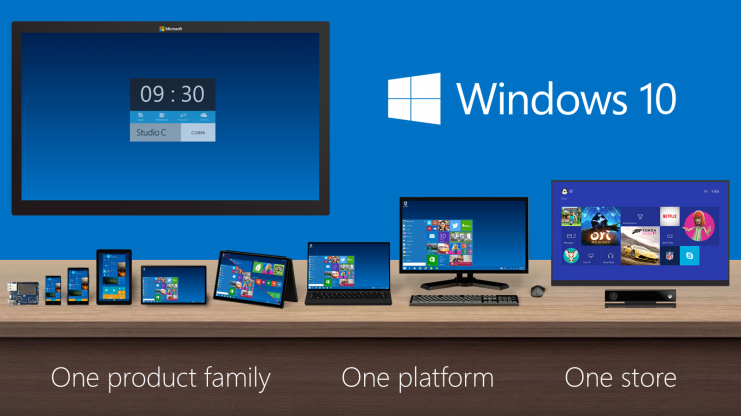 It's a humbling and amazing thing to work on Windows, which is used by over 1.5 billion people in every country of the world. From kids playing with computers for the first time, to writers and journalists, to engineers, to gamers, to CEOs, at some point Windows has empowered all of us.

In the Windows team, we're proud of this – but we also know that the world today is very different from the one in which Windows grew up. Today, devices outnumber people. Connectivity is like oxygen. The tension between the desire for agility versus stability poses a huge challenge for IT Pros. Experiences – no matter what device you're on – just need to work. The only thing that hasn't really changed is the situation for developers – still too much to do, and not enough time.

One way to look at it is that Windows is at a threshold :-). It's time for a new Windows. This new Windows must be built from the ground-up for a mobile-first, cloud-first world. This new Windows must help our customers be productive in both their digital work and their digital life. This new Windows must empower people and organizations to do great things.

 That new Windows is Windows 10.

Windows 10 represents the first step of a whole new generation of Windows. Windows 10 unlocks new experiences for customers to work, play and connect. Windows 10 embodies what our customers (both consumers and enterprises) demand and what we will deliver.

We are excited to announce the Windows Insider Program, where PC experts and IT Pros can get access to a technical preview of Windows 10 for desktops and laptops. Soon after, we'll also be releasing technical previews of Windows Server and our management tools.

With the Insider program, we're inviting our most enthusiastic Windows customers to shape Windows 10 with us. We know they're a vocal bunch – and we're looking forward to hearing from them.

The Windows Insider Program is intended for PC experts and IT pros who are comfortable using pre-release software with variable quality. Insiders will receive a steady stream of early builds from us with the latest features we're experimenting with.
I encourage everyone reading this to sign up for the Windows Insider Program, download the technical preview, and let me know what you think
Source :- Windows Blog