Skype was founded in 2003 and, since then, has been helping to bring great changes around the world.
On August 29th that year, Niklas Zennström and Janus Friis founded what was to become an indispensable communications solution for more than 300 million people worldwide.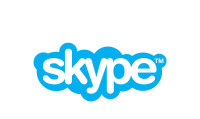 Today marks the 10th anniversary of Skype. Over the past decade, more than 1.4 trillion minutes of voice and video calls have been placed using Skype, and the brand has become synonymous with bringing people together, even when they are apart.
Skype has brought millions of people together even when they are apart. It's amazing that more than 1.4 trillion minutes of voice and video calls have been made using Skype. That's the equivalent of more than 2.6 million years of conversations made in only ten years' time!
Skype is celebrating 10 years of meaningful conversations! Over the years they've made it possible for soldiers overseas to witness the births of their children and for professors to connect with their students from the bottom of the ocean. To learn more about how Skype has connected every corner of the globe, Check out this infographic!
As part of the celebration, Skype will be offering 30 free minutes of Skype Wi-Fi to all users. Between 29 August and 1 September, users can sign up for 30 minutes of free Skype Wi-Fi, which can then be used at any time during the next 30 days.
More details are available on Skype CMO, Elisa Steele's anniversary blog post.