SkyDrive from Microsoft is one of the most popular online storage service offering 7GB of free space and if you want to purchase more storage you can still get it at rates lower than Dropbox or Google Drive. On Windows Phone, SkyDrive has the auto upload of photos and videos if you have enabled it. Now as a part of holidays, Microsoft is offering free 20GB of extra space on SkyDrive for Windows Phone users. Windows Phone users with the Microsoft ID will receive an email with the offer and also the link to activate it.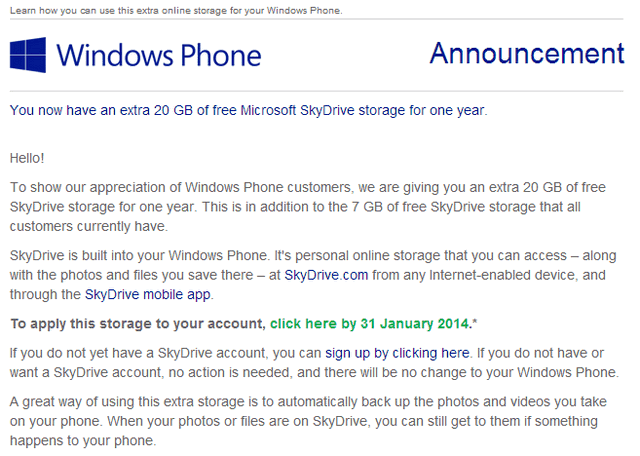 Once you have received the email, you need to get the free storage by 31st January 2014 and if you do not redeem this, your account will not get this extra space. The extra storage should be handy if you use PureView phones like Lumia 920, 925, 1020 or 1520 and want to upload the images in full resolution which usually takes up space.
After clicking on the link, you need to log in with your SkyDrive account and then click the Redeem button in the pop up.
Note: – Your extra 20 GB of free storage will expire one year after you click on the green redemption link in this email. If you are a Windows Phone user, check your Microsoft account to see if you have received this email.