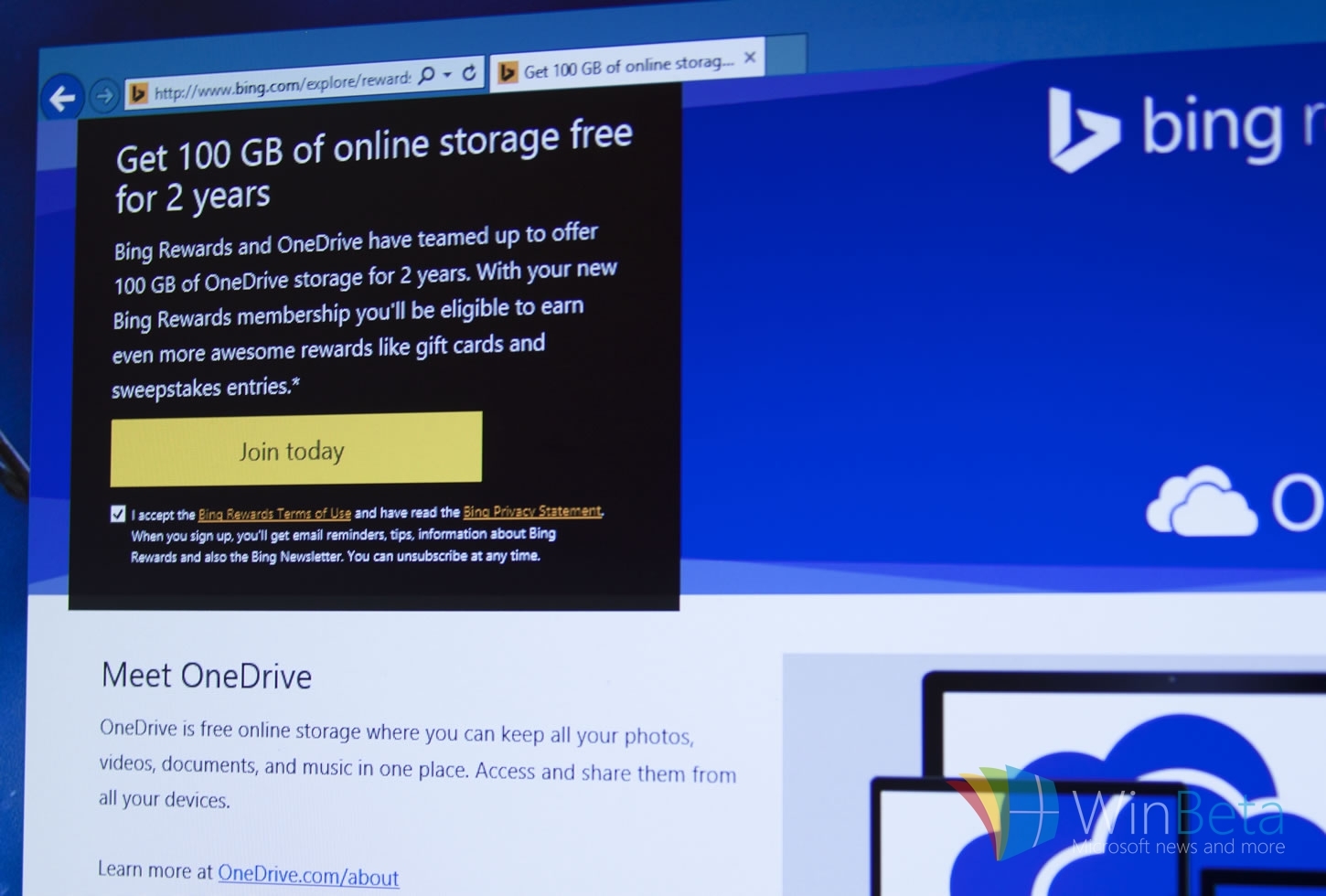 Microsoft is offering 100GB of free OneDrive storage for two years if you sign up for the Bing Rewards program. All you have to do is sign-into Bing and keep searching using Microsoft's search engine to earn Bing Rewards credits. Consider it a "frequent flyer program" for Bing, allowing you to redeem credits you earn for searching and can be spent on gift cards, sweepstakes entries, and other goodies.
Just as Bing Rewards provides its members with rewards across multiple Microsoft brands such as Xbox, Skype, Windows Phone and Windows Store, OneDrive has deep integration with so many of the products you already use. You never have to worry about manually saving your photos and videos. And no more trying to sort out what video format to use—it just works. Plus, Start screen integration with Windows 8.1, and even Xbox slide shows, means there are countless ways your favorite photos and those photos shared with you come to life. And with OneDrive, you can share photos or videos directly to Facebook or via email with one click. You can even record and share gameplay from your Xbox One

New members receive 20 bonus credits just by signing up, getting you well on your way to earning enough credits for this new OneDrive offer in your first week. It's easy to join today by visiting http://www.bingrewards.com and following the instructions to create a Bing Rewards account.

                   – Alex Danskin, Senior Marketing Manager, Bing Rewards
Signing up for the program is a simple process of connecting your email address to Bing Rewards. Once you are signed up, you can begin searching Bing.com while logged in to earn credits. Head over to the VIA link below to claim your 100GB of free OneDrive storage as part of this promotion.
Bing Rewards allows you to search with Bing on your PC and phone, allowing you to try new Bing features and take advantage of exclusive offers as your credits build up. And all you have to do is stay logged into Bing.com
Free OneDrive storage for two years for US residents only
Update: The offer is for 2 years. At the time of this post, Microsoft had yet to update the offer to indicate 2 years (it was still mentioning 1 year).
Note: Bing Rewards is a program for US residents only. Bing Rewards is not available in any other country.